After many years of carrying out these V6 conversions for customers we have decided to launch a brand new engine mount for homebuilders. This mount allows the DIY V6 builder to hang a V6 engine in an Mr2 engine bay without any welding or fabrication work, you don't even need to remove the standard mount from the V6 engine block. This new mount interfaces between the V6 and the Mr2 chassis and features laser cut components, and all new rubber bushing, so this kit has everything you need to install your V6 engine.
This is the new Woodpsort V6 engine mount painted black, the silver part is the original bracket that bolts to the V6 engine block.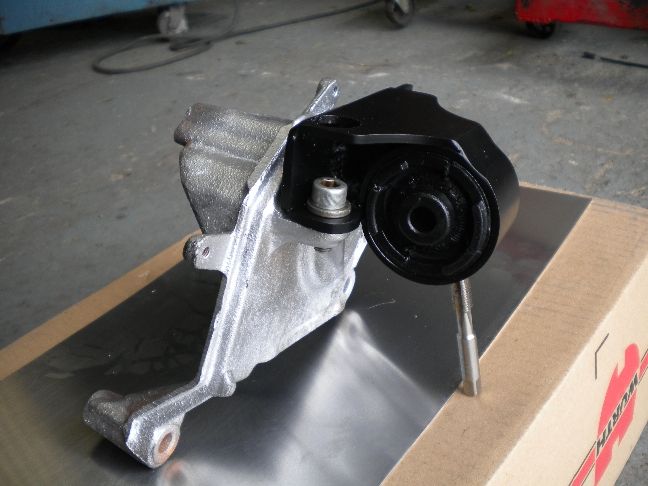 The mount allows the original timing belt cover mounting points to be retained, something that was missing from previous versions. There are two versions of the Woodsport V6 engine mount, there is a slight difference between the two, so just to be clear you are ordering the 1mz-fe/3mz-fe version and i cannot issue a refund if you make a mistake, my email is This email address is being protected from spambots. You need JavaScript enabled to view it. if you also want to confirm your mount choice, but i will assume it is for a 1mz-fe or 3mz-fe engine if i receive this checkout. This mount works for both VVti and non VVti versions of the 1mz-fe/3mz-fe engine,  so order with confidence if you are using either a 1mz-fe or 3mz-fe engine (3mz-fe is not to be confused with the 3vz-fe which is a different mount also available in the shop)
Upon ordering, the mount will be made next working day and shipped within 2 days of your order.
The price is £125 plus shipping (£10 within the UK)
Customer feedback
"Received my mount this morning, excellent build quality. Can't wait to get the engine transplant going now, thanx very much for the mount Paul. It actually weighs less than I thought it would, and is a piece of art indeed"- P5ycho-Twobrutal member.
"The mount looks realy good! Nicely finished and even sturdy enough for the most brutal engines. It's realy worth the money!" - Resolve-Twobrutal member.
"The easiest mod I have done on this car." - Mr Bill Strong, Owner of the MR2OC.COM/Racing Strong Motorsports